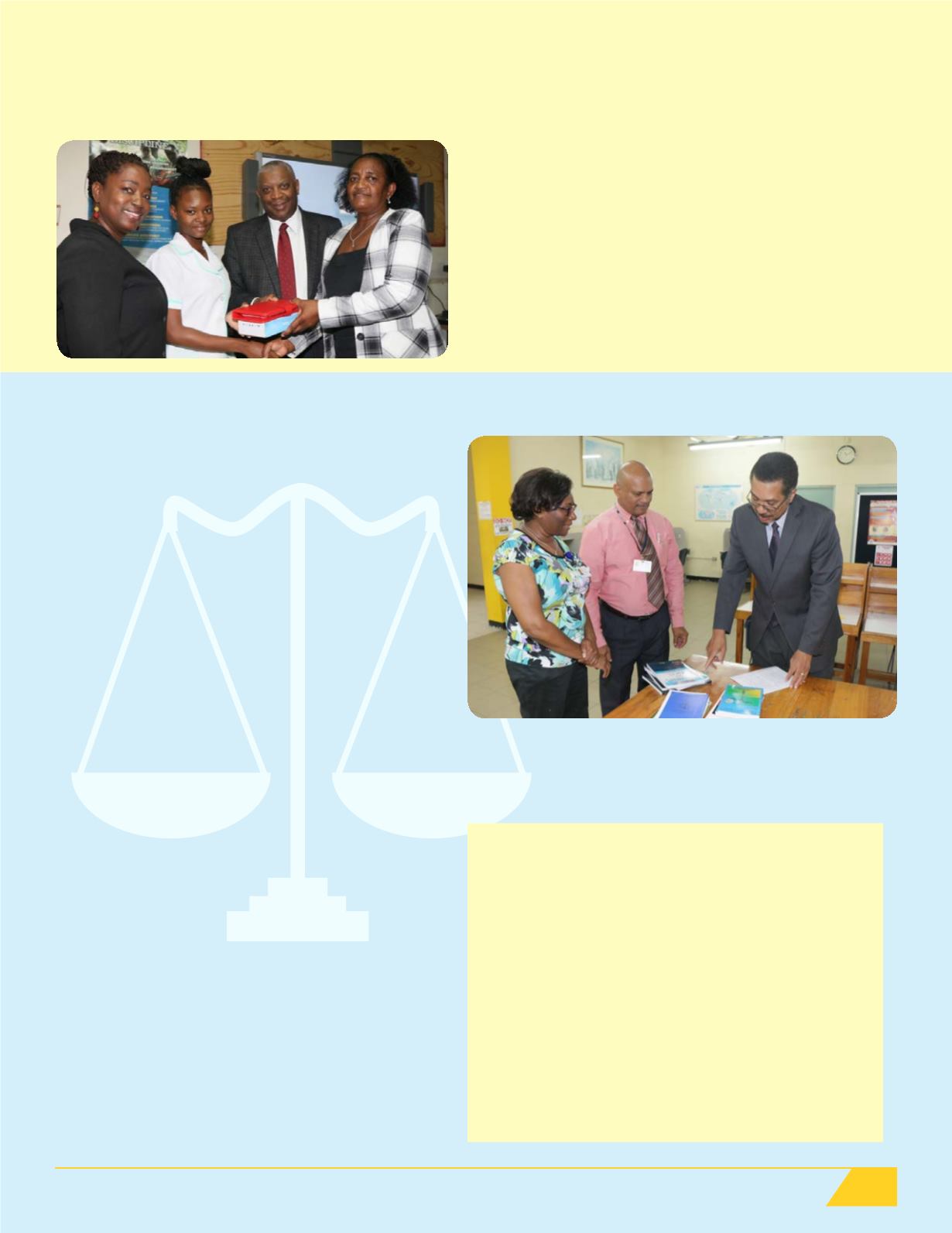 31
February 2017
| VOICES Bi-Monthly Magazine of the University of Technology, Jamaica
Dr. Paul Golding (3rd left), Dean, College of Business and Management presents
a computer tablet to Lister Mair Gilby High School (LMGHS) student Lorraine
Strachan (2nd left) during a presentation ceremony at the school on October 24,
2016 at which Dr. Golding handed over a first phase of 100 tablets to teachers
and students. The tablets have been installed with the innovative e-learning
multimedia software, U-Touch developed by Dr. Golding and his research team
to aid deaf and hearing-impaired students to understand prepositions and
conjunctions to enhance their reading and comprehension skills. Sharing in the
presentation from left are Ms. Carol Williams, teacher and Mrs. Audrey Watson,
Principal, Lister Mair Gilby High School.
CALVIN MCKAIN LIBRARY'S HOLDINGS
The University's Calvin McKain Library's holdings are made visible
via our Online Public Access Catalogue (OPAC) CALCAT. The Library
houses approximately 137,416 volumes of books and provides access
to over 58,000 online journals and subscription to 59 print titles.
CML Online resources feature information that is reflective of all the
disciplines offered by the University. These include databases such
as EBSCOhost, Emerald, Access Pharmacy, Access Newspaper Archive,
IEEEXplore Digital Library, CARILAW, Britannica, Medicine complete and
Micromedex.
In an effort to satisfy the demand for extended library hours, CML
provides our students with a 24hr Reading Room. The facility seats
156 persons.
UTech, Ja. Donates Tablets with e-learning Software to
Lister Mair Gilby High School
President Vasciannie Donates his Publications to Calvin McKain Library
Prof. Stephen Vasciannie, CD (right), President, University of Technology, Jamaica
(UTech, Ja.) present a collection of his law publications which he authored, to Mr.
David Drysdale, University Librarian during a visit and tour of the Calvin McKain Library,
Papine campus on Wednesday, January 11, 2017. Sharing in the presentation is Miss
Glenda Dalling, Librarian, Collection Development Unit.
The President's Publications
International Law and Selected Human Rights in Jamaica (2002) -
Stephen Vasciannie (2 copies)
The 8th Michael Manley Lecture 2009 – Jamaica and the World –
Aspects of International Law - Stephen Vasciannie (2 copies)
Us and Them: International Law in a Time of Trial – Inaugural Lecture -
Stephen Vasciannie (2 copies)
Arguments and Facts – Caribbean Public Law, Governance, Economy
and Society - Stephen Vasciannie (2 copies)
The International Law Workbook – Questions and Materials for Students
of Public International Law - Stephen Vasciannie (2 copies)
OFFPRINTS
The Privy Council Versus The Caribbean Court of Appeal – Some General
Observations - Stephen Vasciannie
The Constitution and the rule of law: some recent developments in
Jamaica – Stephen Vasciannie
West Indian Law Journal – Vol. 35 – May 2010 – No. 1 – The Caribbean
Court of Justice: The Next Steps – Stephen Vasciannie
The Role of the United Nations International Law Commission: A View
from the Caribbean - Stephen Vasciannie
Part XI of the Law of the Sea Convention and Third States: Some General
Observations – Stephen Vasciannie
The British Year Book of International Law 1999 – Seventieth Year of
Issue – Oxford at the Clarendon Press 2000 – The Fair and Equitable
Treatment Standard in International Investment Law and Practice -
Stephen Vasciannie (2 copies)
ILSA Journal of International and Comparative Law – Articles & Essays
– The Inter-American Commission on Human Rights: Reform and the
Question of Universality - Stephen Vasciannie
The Cobb Family Lecture 2008 – The Human Rights Project in Jamaica
– Stephen Vasciannie (2 copies)