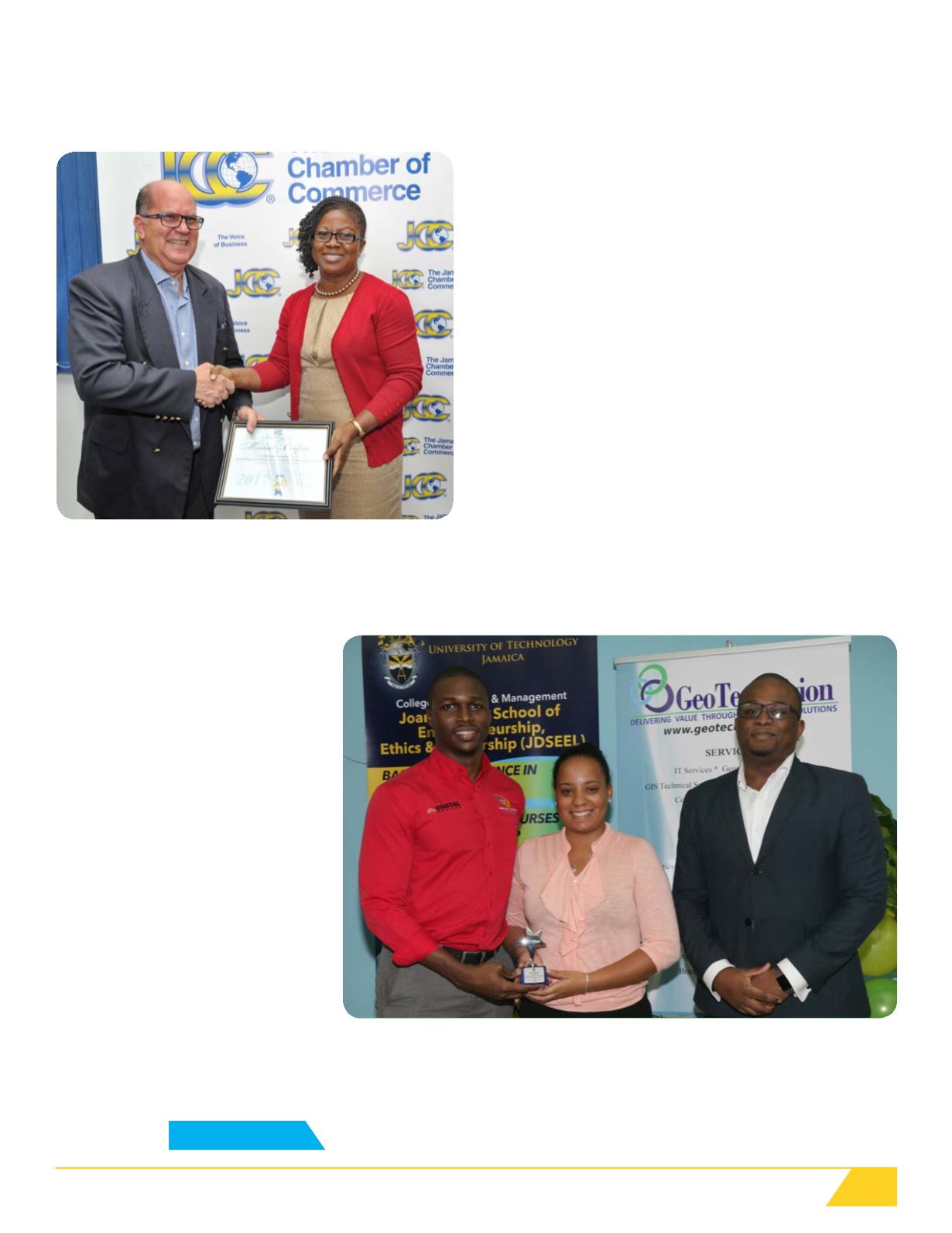 27
February 2017
| VOICES Bi-Monthly Magazine of the University of Technology, Jamaica
U
niversity of Technology, Jamaica's Technology Innovation Centre (TIC)
in the Joan Duncan School of Entrepreneurship, Ethics and Leadership
(JDSEEL) has been admitted to membership in the Jamaica Chamber
of Commerce (JCC). The TIC's membership certificate was presented to Miss
Dionne Palmer (right), Incubator Manager, by Mr. Larry Watson, President,
JCC at the Chambers' Board of Directors meeting on Tuesday, January 31,
2017.
The Jamaica Chamber of Commerce is a membership-based organization
comprising businesses and professionals "working together to build and promote
a healthy economy and to improve quality of life" by assisting businesses to
prosper and grow and to integrate into the global economy.
Miss Palmer notes that the TIC considered it prudent to seek membership in the
JCC to support the Incubator's mission to nurture and impact entrepreneurship
within Jamaica and the Caribbean region. Over 260 clients have been nurtured
in the residential, virtual and shared space programmes offered by the TIC since
its establishment in 2002. Its graduates and clients have been impactful on
the economy with some having gained investment in their businesses and have
been recipients of numerous local and international awards.
O
utstanding entrepreneurs whose business
ventures are incubated at the Technology
Innovation Centre (TIC), business incubator
- a special unit of the Joan Duncan School
of Entrepreneurship, Ethics and Leadership
(JDSEEL), in the College of Business and
Management (COBAM), UTech, Ja. were specially
honoured at the TIC's annual Client Awards
ceremony held on Thursday, December 8, 2016
at the University's Papine campus.
The TIC recognised the achievements of current
clients who were outstanding in their respective
fields during this year, through the presentation
of awards in five different categories. These were
the Top Residential Client Award won by Stacy
Kirk, CEO of Quality Works Consulting Limited –
a consulting firm specialising in software quality
and process innovation; the Top Platinum
Client award presented to Wayne Harrison of
International Work and Travel Service – a work
and travel company focusing on tertiary level
students; Top Virtual Client Award presented
to Mark Williams, proprietor of Elite Leaders
International – trainers in cash flow management,
entrepreneurship, investment, leadership, sales
and marketing;
Technology Innovation Centre Now Member of the
Jamaica Chamber of Commerce (JCC)
Entrepreneurial Trailblazers:
Miss Krysta-Leigh Thames, Office Administrator of Edufocal Limited, an online
social learning platform that combines study and play, accepts the Trailblazer Award presented to Edufocal
Limited from sponsor, Mr. Ewan Campbell (left) of Point Global Marketing Limited, at the University of Technology
Jamaica's Technology Innovation Center (TIC) annual Client Awards Ceremony held on Thursday, December 8,
2016 at the University's Papine campus. The company also copped the award for Top Client of the Year. Mr.
Gordon Swaby (right), founder and CEO of Edufocal was lauded for his foray into the international arena where
he is currently expanding his business in London and Nigeria.
Cont'd on page 28
Over 260 Businesses Nurtured at UTech, Jamaica's
Technology Innovation Centre