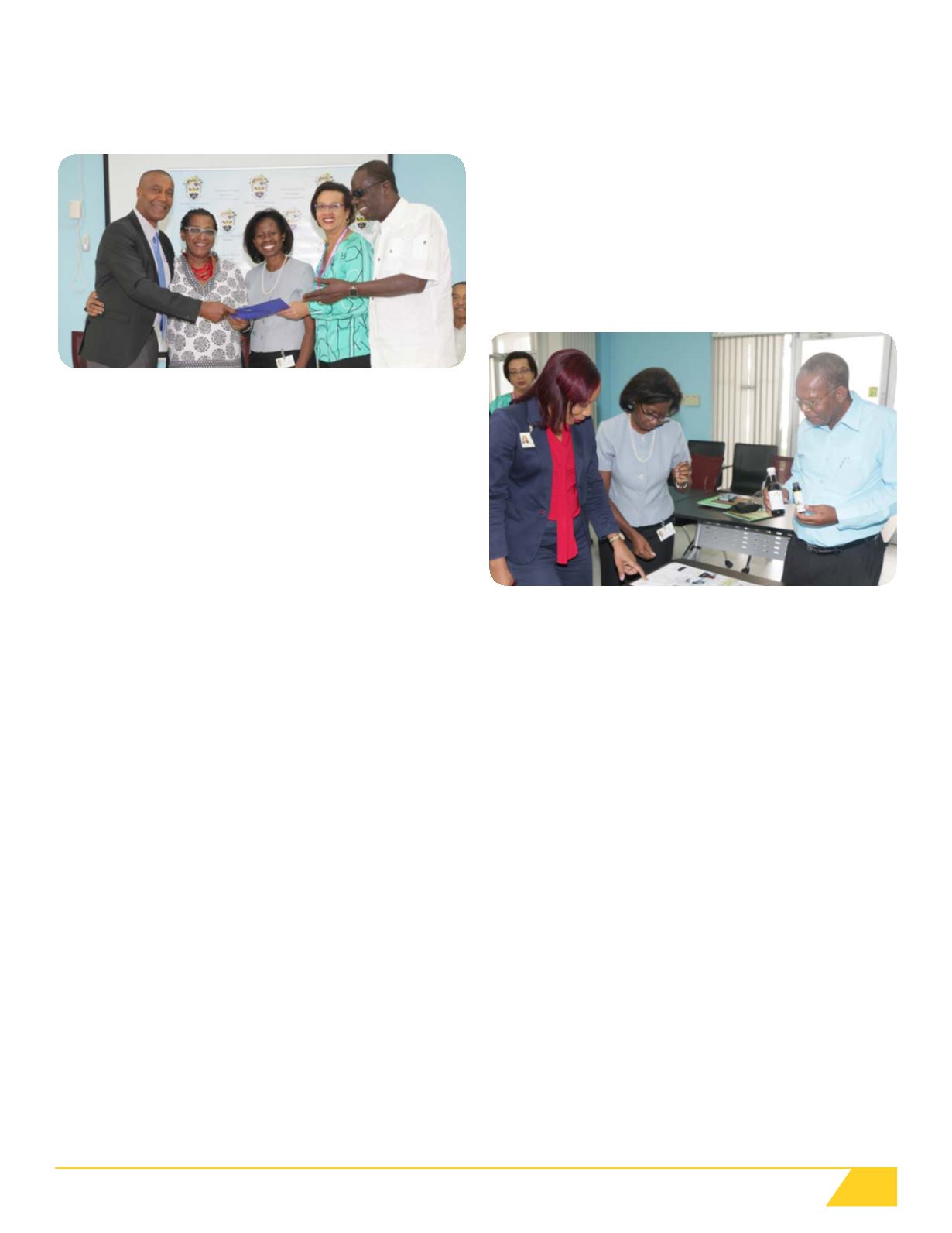 23
February 2017
| VOICES Bi-Monthly Magazine of the University of Technology, Jamaica
T
he University ofTechnology,Jamaica's long track record of research into
the medicinal properties of indigenous herbal plants has been further
strengthened with the brokering of a Memorandum of Agreement
with Timeless Herbal Care – an international, nutraceutical, pharmaceutical
company. The agreement between UTech, Jamaica and Timeless Herbal
Care for the development of research in medical marijuana was formally
announced at a special briefing held at the University's Papine campus on
Thursday, January 12, 2017.President and CEO of Timeless Herbal Care,
Mr. Courtney Betty, a Jamaican attorney-at-law, based in Canada, in his
remarks explained that he retired from law three years ago to help the
government of Jamaica to create a legal framework for a medical marijuana
industry. Affirming his commitment to the development of the industry in
Jamaica, Mr. Betty told the gathering that "from the very beginning we were
not about selling ganja, we are not about smoking marijuana; from the
very beginning we were about bringing forth medical products to market,"
he said. In this regard, Mr. Betty expressed confidence in the anticipated
fruitful partnership with UTech, Jamaica in carrying out research towards
product development in medicinal cannabis.
Timeless Announces Scholarships for UTech, Jamaica students
During the briefing ceremony,Timeless Herbal Care announced the provision
of two scholarships to UTech, Jamaica students enrolled in science based
courses of study. The scholarships valued at J$1 million dollars are named
in memory of Myrtle Clementine Betty and Lilly Rose Clarke, mothers of
the two principal partners of the company and will commence in the next
academic year, 2017/2018.
Under the MoA agreement UTech, Jamaica will provide technical training of
stakeholders through expertise in its School of Pharmacy, College of Health
Sciences, as well as research and testing of cannabis strains for product
formulation.
Dr. Janet Campbell-Shelly, Acting Dean, College of Health Sciences in her
welcome, noted that the University has developed productive partnerships
with several groups and partners since UTech, Jamaica received its first
medical marijuana research licence on May 13, 2015 from then Minister
Hon. Phillip Paulwell and a renewed licence in May 2016 from current
Minister of Science, Energy and Technology, Dr. the Hon. Andrew Wheatley,
MP. She expressed confidence that these partnerships will continue to
advance opportunities for faculty and student research for the benefit of
Jamaica and by extension, the world.
Dr. Ellen Campbell Grizzle, Associate Professor noted that the signing of the
MoA marks a milestone of a longstanding relationship with the company
and underscored that UTech, Jamaica's focus will continue to be on
medicinal cannabis with a balanced approach in fostering public education,
community involvement and substance abuse prevention.
Adjunct Professor in plant based medicine, Dr. Lawrence Williams, who has
been appointed by the University to advance research work in herbal plants,
in his remarks, said that his current research work is focused on looking at
the anti-inflammatory properties and compounds of cannabis and the anti-
diabetic properties of guinea hen weed. His research is also investigating
the compound devenzil trisulphide to determine whether compounds from
cannabis can synergise the activities of that anti-cancer compound. "They
have now synthesised a derivative of devenzil trisulphide which is now at
stage 2 of technical trials in China, so that work is going very well." Dr.
Williams said.
UTech, Jamaica Signs Agreement with Timeless Herbal
Care for Development of the Medical Cannabis Industry
Scholarship Presentation: Mr. Courtney Betty (left), President and CEO, Timeless
Herbal Care Ltd. presents his company's scholarship commitment document to
happy recipients (from left) Dr. Ellen Campbell-Grizzle, Associate Professor and
former Dean of the College of Health Sciences (COHS), Dr. Janet Campbell-Shelly,
Acting Dean, COHS, Dr. Andrea Daly, Acting Head, School of Pharmacy, COHS.
Sharing in the happy occasion is Mr. Leroy Sibblies, investor, Timeless Herbal Care
Ltd. The presentation was made during a briefing ceremony held at UTech, Jamai-
ca's Papine campus on Thursday, January 12, 2017 to announce the Memoran-
dum of Agreement signed between the two entities to support the development of
Jamaica's medical marijuana industry.
Guinea Hen Weed pharmaceutical products: Dr. Lawrence Williams, (right) Adjunct
Professor in plant based research, College of Health Sciences (COHS), University
of Technology, Jamaica explains the therapeutic and healing properties of two
of his Guinea Hen Weed pharmaceutical products developed in collaboration and
retailed under the Timeless Herbal Care brand – the Guinea Hen Weed Tonic
and Restorative and the Guinea Hen Weed Magic Relief pain ointment, to Mrs.
Michelle Beckford (left) Corporate Communications Manager, UTech, Ja. and Dr.
Janet Campbell-Shelly, Acting Dean, COHS at a special briefing session at its
Papine campus on Thursday, January 12, 2017 to announce a Memorandum of
Agreement signed between UTech, Jamaica and Timeless Herbal Care Limited to
support the development of the medicinal cannabis industry in Jamaica.