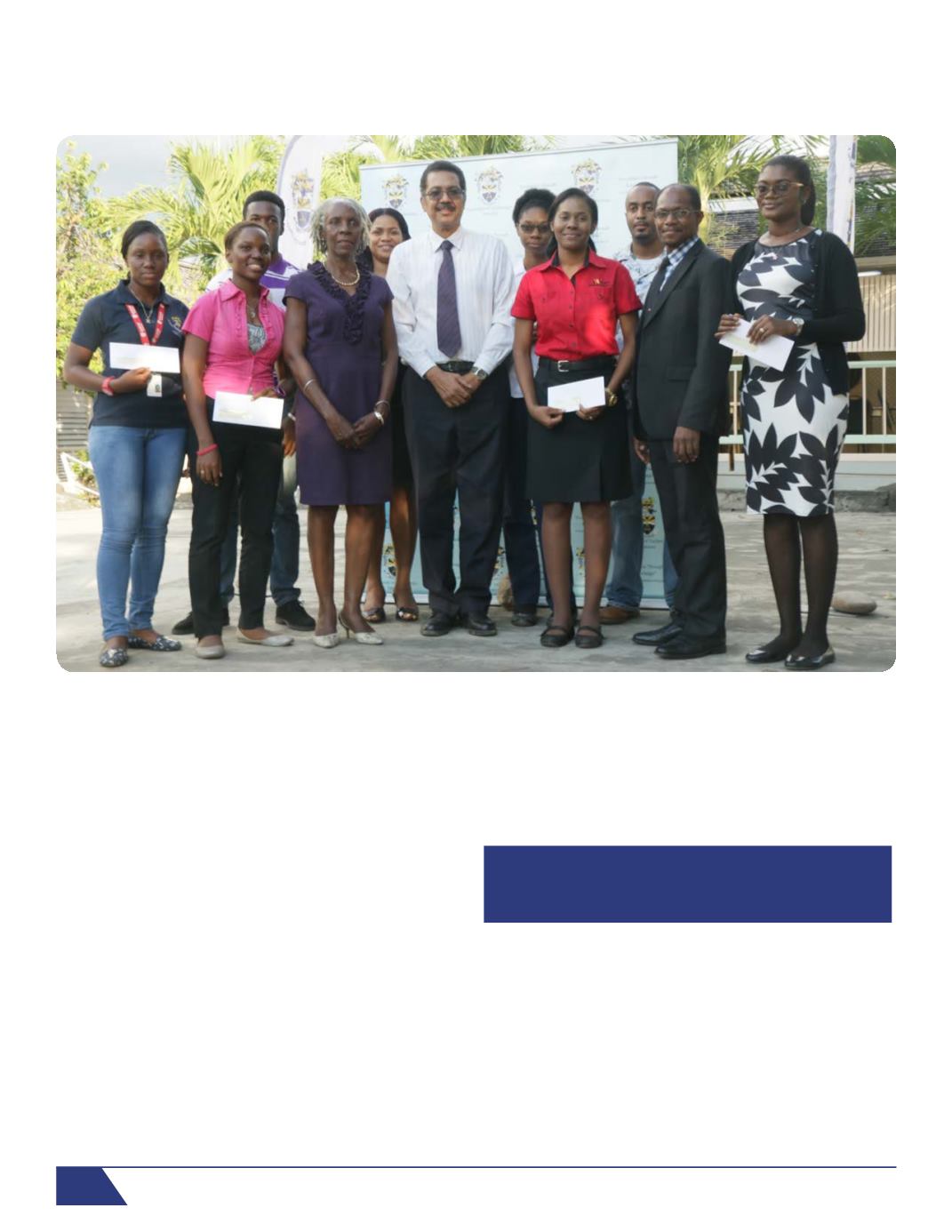 VOICES Bi-Monthly Magazine of the University of Technology, Jamaica |
February 2017
16
Prof. Stephen Vasciannie,(centre) President, UTech, Jamaica poses with students following his presentation of rebate cheques of $25,
000 each which was given back by the University as an incentive to students who paid their tuition fees for Semester 1, Academic Year
1016/17 on time and in full prior to the Registration Census Date. Participating in the presentation are Dr Elaine Wallace (3rd left), Univer-
sity Registrar, Prof. Colin Gyles (6th left) Deputy President and Garcia McLennon (2nd row, 2nd left) Director, Student Financing. Students
(front row, L-R) Kymara Sterling, Sandrene Smith, Rox-anne Doiley and Stevie Clarke-Chambers. Back row (L-R) David Williams, Trichana
Gentles and Howard Hanniford. Missing from the photo are Matthew Chin Fong, Tanique Spence, Oshin Facey.
662 Students Receive Tuition Rebate
S
ix hundred and sixty-two (662) University of Technology, Jamaica
(UTech, Ja.) students recently benefited from a 3% rebate on their
tuition fees for Semester 1, Academic Year 2016/17 under a $3M
initiative which was implemented by the University as an incentive to
students who paid their fees on time and in full by the Registration Census
Date for Semester 1.
As an additional incentive, ten students from the group of 662 were
randomly selected to receive cash awards of $25, 000 each. Prof. Stephen
Vasciannie, President, UTech, Jamaica made the cheque presentations to
the these students at his first meeting with the student body on January 19,
2017 at UTech, Jamaica's Papine campus.
Director of Student Financing, Mrs. Garcia McLennon in making the
announcement of the tuition rebate and the additional $25,000 cash
prize initiative, explained the significance of the Census Registration Date
applicable each Semester. "The Census Date is the last date to select
modules and confirm enrolment, get financial clearance without penalties,
adjust invoices if already enrolled and to submit add/drop request without
penalties," she said.
Flexible Payment Plans
Noting that financial clearance is now easier with a number of flexible
payment options, Mrs. McLennon encouraged students to make every effort
to meet the Census registration date requirement each Semester to benefit
from no facility fee charges and opportunities to receive the University's on
time payment incentive.
Ten students receive
$25,000 cash awards