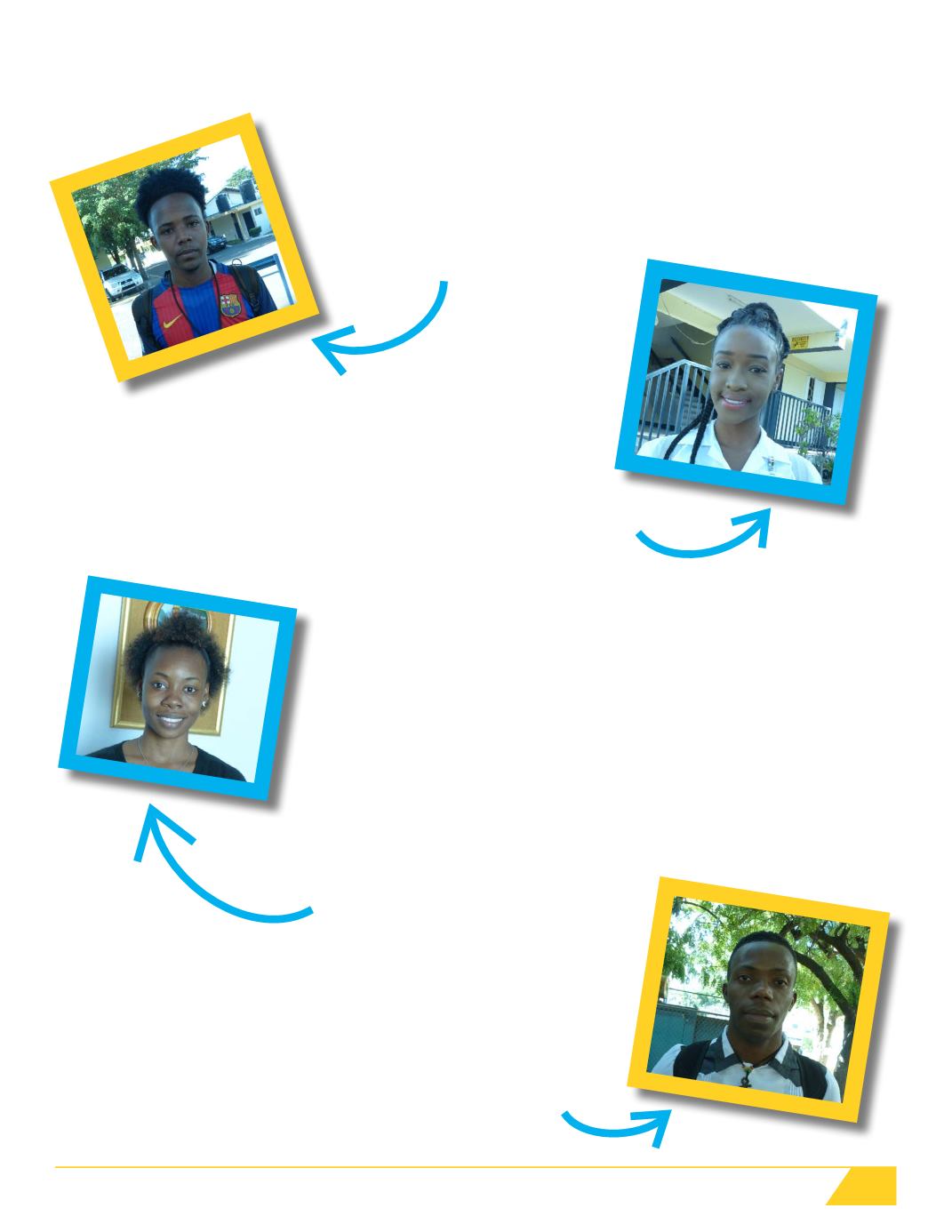 15
February 2017
| VOICES Bi-Monthly Magazine of the University of Technology, Jamaica
"I was not sure that there was a new President at school and I hope
to find out more about him. The reason I like being at UTech,
Jamaica is because of its location and it has a great surrounding."
Matthew Tucker, Year 1
School of Technical and Vocational Education,
Faculty of Education & Liberal Studies
"I would really like to get to know who our new President. I don't
know who he is. I like being a student because the teachers are very
understanding. They know that we have a life outside of school so they
would help us in any way possible and see to it that we understand the
course and pass."
Jevede Jacquette, Year 3
College of Health Sciences,
School of Allied Health & Wellness
"I don't know him so I don't know what to think. I have some friendly
classmates that are very helpful. There are also a lot of activities here but I
don't get to take part in much. This is because I work and come to school
so I only do what I can."
Shavouy Williams, Year 1
Joint Colleges of Medicine, Oral Health and Veterinary Sciences
"To be honest, having a new President here at UTech, Jamaica reminded me of
when I was in high school. We had a principal before that we only saw during
general devotions. When the new one came, he walked throughout the school
as well as interacted with the students and that is the same thing that President
Vasciannie has been doing. I think he is goal-oriented, determined and he
wants what is best for this institution during his time in office. There are three
things I like about being at UTech, Jamaica; 1. It is a friendly environment and
the students are cool. You can rely on someone, just in case you missed a class.
2. Some of the lectures are really cool. They understand that we have a social
life and having assignments at all times are going to be hard, but we try our
best to get them done so they are on time. 3. I think I like what I am studying
so that adds up to me like being a student here."
Jamielee Brown, Year 2
BSc Communication Arts & Technology (BCAT)
Faculty of Education & Liberal Studies
STUDENT VOICES
"UTech, Jamaica to Me"