Update from the President re Current Situation at UTech, Jamaica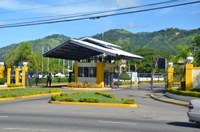 Since yesterday, September 11, 2018, some lecturers at the University of Technology, Jamaica, have not been present to deliver their lectures and lead their classes.
Other lecturers have, however, been delivering lectures and leading classes.
The Union representing the academic staff at the University has so far refrained from specifying the intentions of the lecturers who have not been delivering their lecturers.
In the circumstances, the University continues to encourage students to attend their classes, because some lecturers are at work in the normal way. If a lecturer does not turn up for his or her class within the first 30 minutes of the lecture, students will be fully entitled to leave the lecture room and proceed with their own activities.
The University apologizes for the inconvenience that has been prompted by the circumstances, and gives the assurance that we have been taking steps to rectify the situation.
Stephen Vasciannie
President
September 12, 2018