Research

College of Health Sciences Researchers to Conduct Jamaica's first National Food Consumption Study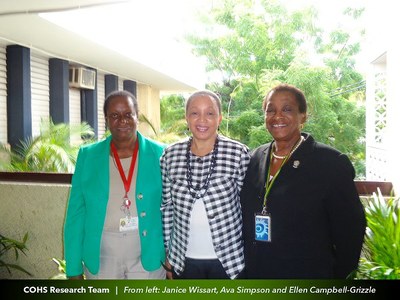 The National Health Fund (NHF) has approved full funding for Jamaica's first National Food Consumption Study (NFCS1). The winning proposal, Jamaica Livity, will be supported over a two-year period through a fourteen million Jamaican grant .The aim of this NFCS is to provide estimates of both acute and usual consumption patterns and consumption trends of the Jamaican population at the individual level .The landmark study will investigate consumption among Jamaican adults 18-60 years old; strengthen the UTech Wellness Centre and pilot the UTech Wellness model in two (2) health delivery settings- one (1) urban and one (1) rural.
Programme Director (PD), Dietetics and Nutrition and a registered dietician, Ava simpson, will be the Lead investigator. Janice Wissart PD, Medical Technology, a clinical chemistry specialist, will be responsible for generating the biochemical data from blood and urine samples from the diabetic and hypertensive population that will be closely studied. Associate Professor and Dean of COHS, and proposal writer, Ellen Campbell Grizzle, will focus on coordinating the interdisciplinary policy dialogues, the development of client friendly material, including manuals for the wellness centre, and, monitoring and evaluation activities.
Data derived from this survey will be valuable to the Ministry of Health, Ministry of Agriculture, the food manufacturing industry and Ministry of Finance, among others. Dean Campbell Grizzle said "The Ministry of Health and other government agencies understand the need to know what Jamaicans are eating, why they are making these food choices and how this links to their nutritional status, clinical picture and productivity. This study will be of lasting national benefit and should be the first of a series."
The project will strengthen the capacity of the UTech's Wellness through training and the purchase of advanced equipment. Students in both the new post graduate Dietetics and Nutrition Course of study and Medical Technology will support the research activity. Other collaborators will include the Ministry of Health and the COHS Health Research Translation Unit.