Dean's Message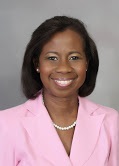 It is my happy privilege to welcome you to the College of Health Sciences here at the University of Technology, Jamaica. The evolution of the College from what was known as the Science Department to the Faculty of Health and Applied Sciences to now the College of Health Sciences speaks to the progress and development that have taken place in this academic unit over the years.
Being one of the oldest academic units, the College has had the awesome privilege of preparing graduates for health related professions for over 50 years. Our graduates have served with distinction in Jamaica, the Caribbean as well as the rest of the world.
As a part of the national university, the College is committed to the Vision 2030 National Developmental goals and as such we are very proud of the slate of health-related programmes of study that we offer.
Through its three Schools, the College prepares health professionals such as midwives, nurses - including specialists in critical care and anaesthesiology, dietitians, nutritionists, medical technologists, Health Record and Child Care and Development professionals, pharmacists, pharmaceutical technologists and pharmacy technicians.  Our "work ready" graduates are characterised as impactful and agents of change at all levels of the Health Sector.
Quality has been a hallmark of the College's development. Throughout  history we have striven to ensure that the quality of our programmes of study can withstand the scrutiny of Accrediting and Regulatory bodies. Our association with the University Council of Jamaica (UCJ) and the Regulatory Bodies through the years has allowed us to achieve that mandate.
The college seeks to serve the interest of all our stakeholders. Several of our programmes are now offered using the Distance/online delivery modality. This allows our clients greater flexibility both at the graduate and undergraduate levels.
We invite you to browse our webpage and meet our cadre of highly trained and competent faculty.
The people we serve deserve the best and to this we are committed.
Dr. Janet Campbell-Shelly